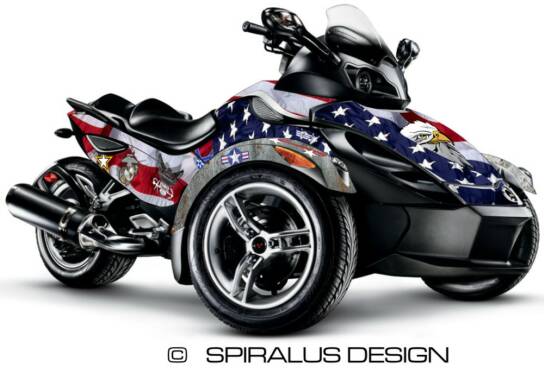 April 21, 2014

Check out the new
"Patriot"
kit, as requested by many of you! Available for the RS now, ST soon.
January 30, 2014

We are currently updating our templates to reflect the side panel/ air intake change that Can Am made to the 2014 RS Spyder. We will have the new side panel options available shortly.

Please drop us a line if you have any questions about this.

January 14, 2014

Happy New Year everyone! We'd like to extend our thanks for a great 2013 and we hope you all have a great 2014! We have a ton of new stuff on the way and look forward to hearing from you what you'd like to see for your Spyder.

Site content © 2010-2014 Spiralus Design

Newsletter & Promo Sign Up!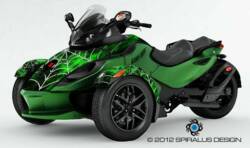 NEW GRAPHICS FOR THE RS! MANY COLORS AVAILABLE

Thank you for stopping by spiralusspyder.com, the web's only graphic kit source dedicated to the Can-Am Spyder! We believe in putting the power of customization in your hands; ask us about our complimentary modification program to any of our existing kits. Or, for your own personal touch, create something from scratch.

We are confident you will not find a better Spyder graphic anywhere. We are always open, and always here to help. Drop us a line with a question or ask about installation or customization.

Thanks for checking us out!