 June 19, 2013

New RT accent decal kit available today! Check out the new
"ATTACK"
package, starting at only $139.99!
April 18, 2013

The new Spyder ST graphics are almost ready! We are working on the ST pages here on the site as we speak...

Here's the first new ST wrap -

March 20, 2013

So it's the first day of spring and with it brings the excitement of a new riding season (for those of us in the north, anyway).

Our Spyder-ST fitment is done and we will be getting those kits up on the site as soon as possible.

Cheers!

Site content © 2010-2013 Spiralus Design

Newsletter & Promo Sign Up!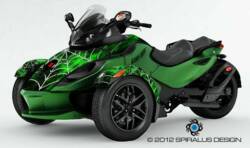 NEW GRAPHICS FOR THE RS! MANY COLORS AVAILABLE

Thank you for stopping by spiralusspyder.com, the web's only graphic kit source dedicated to the Can-Am Spyder! We believe in putting the power of customization in your hands; ask us about our complimentary modification program to any of our existing kits. Or, for your own personal touch, create something from scratch.

We are confident you will not find a better Spyder graphic anywhere. We are always open, and always here to help. Drop us a line with a question or ask about installation or customization.

Thanks for checking us out!